Glad to be saying "hello" to a new week! This past week was filled with many good things and appointments, but it was busy! I am welcoming the next 2 weeks before surgery with open arms, as we finish up little house projects, prepare the details for surgery, and just soak in all that God has given us! Though I want to stay busy enough so that I am not counting down the days and hours until October 20. The more I start to think about surgery, the more I let my mind wander to the things it doesn't need to – the long road of recovery, the pain, and being away from Mazy for awhile. All things that are a reality, but are NOT worth worrying about because God's got this!
I try to take a nap almost everyday and thankfully Mazy still takes them too. All part of God's plan! It doesn't matter how busy or how much I sit around, I typically need one, which is SO unlike me! It's been a bit of a pride pill to swallow. Mazy has also been adjusting well to mommy not always feeling well. She will bring me a teddy, put her blankie over me, and sometimes rub my back. She has such a compassionate and caring heart!
I did not take many pictures this week, but here's a few I captured from the week:
Mazy is my little sidekick. Anything I do, she wants to learn how to do it too. I was putting away dishes from the dishwasher and she has watched me enough, that she is learning where things go. She now helps take things out and hands them to me, for me to put them away. Then I thought hey, she could do the silverware! Sure enough, we pulled up the step stool and was able to "match" the silverware! She did them all on her own and she was SOOO proud. Love. That. Girl.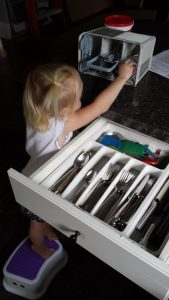 After my heart cath, I had not eaten or drank much that day, causing my blood pressure to dip extremely low. It started to go up a bit the more I ate and drank, but I knew on the way home that if I did not get more in me, that it would dip low again. A big ole burger sure isn't tasty after a procedure, but I've learned that shakes always hit the spot. Kind of a liquid, but also some substance (sort of). Arby's shakes were only ONE DOLLAR, unbeknownst to us, so needless to say, this hit THE spot!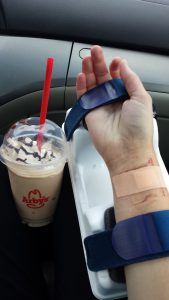 We learned that our town, every year, has a Pumpkinfest! We weren't able to attend much of it this past weekend, but one thing we did make sure we attended, was the parade! We rode our bikes down the street Saturday afternoon, and Mazy watched her first Pumpkinfest parade. We weren't certain how she would do, since loud noises tend to scare her, but she did GREAT, until the sirens at the end. Then it was GO HOME! She waved and waved with her little hand to all the floats that went by, of course bringing smiles to others too! Indeed, we also dressed in the maize and blue…though it didn't help…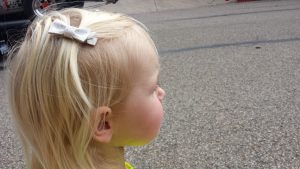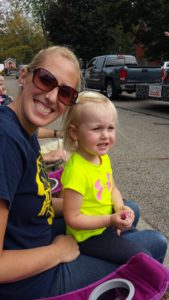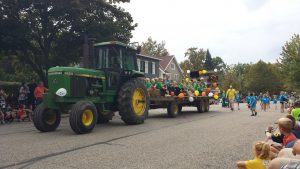 Mazy wanted to watch a show, but couldn't do it without her sleeping bag, a pillow, and gok (milk). She sure knows what it means to "rest" on Sunday – this is even after her nap!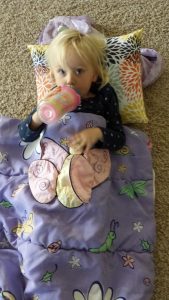 This next week we hope to finish some painting projects! Can't wait to share an update on them!