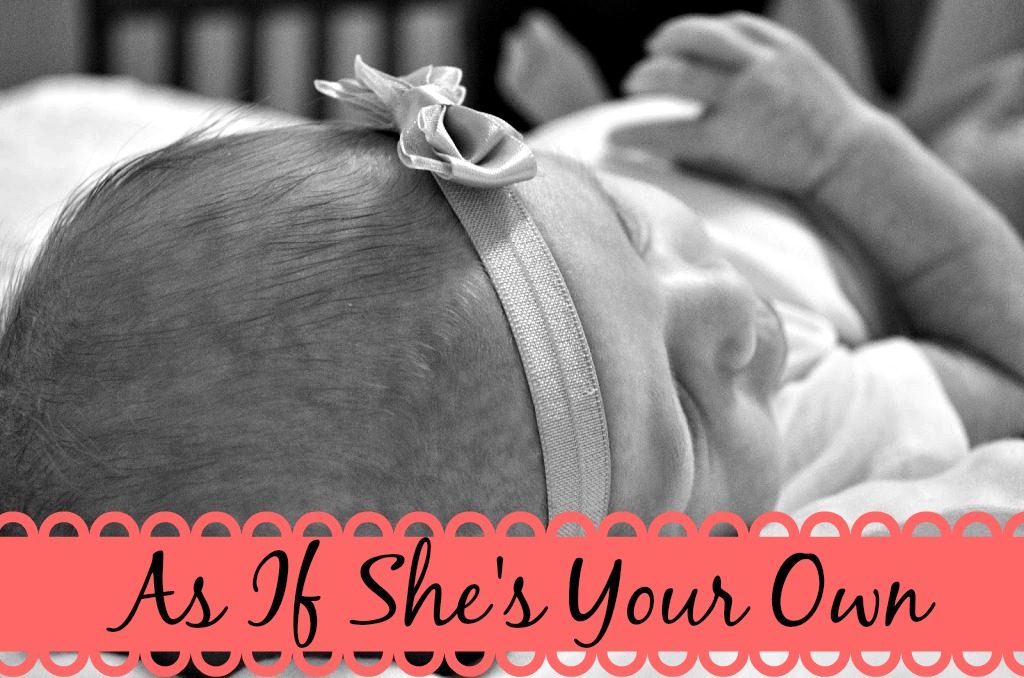 As the saying goes, "It takes a village to raise a child."
Dan and I have often said being in youth ministry, that we treat our youth group kids as our own. We always have. We talk with them, care for them, hug them, and cry with them, as if they were. That whole concept was always very close in our hearts.
Until we had our own.
And that idea of having others walk alongside of us to raise OUR child, has only become more deeper, meaningful, and life-changing.
It brings tears to my eyes to think about how many people God has brought into our life, to help us not only grow, but also walk alongside us in parenting. From those who prayed for us to be able to have our own child, for years and YEARS. From those who celebrated our twins and then  walked alongside us in grieving. To those who prayed for a miraculous heart healing, that led to a pregnancy. To those who prayed for 9 months for our baby to one day be snuggled in our arms. To the nurses and doctors who helped bring our little Mazy Grace into this world. To God who gave her, her first breath. To those who showered us with gifts we never even knew we needed. To those, young and old, who have watched Mazy in a pinch, who have offered to care for her so we could go on a date night, to friends who watch her so I can have a few hours to run errands. To friends who have walked with us through some of our darkest times, who probably care to know more about us and our family than anyone would ever need to, and who continually offer up their love and care for our little family.
And my friends, those are just a small sampling of the ways God has used others to help us raise our daughter and change our lives.
I never knew I needed it. I never knew I needed others to help raise OUR daughter. I guess I went into motherhood thinking yeah, I will have other mothers, family members, and acquaintances to talk to, but I never knew I NEEDED them. I truly would not be the person I am today, if it wasn't for all of YOU.
When I think about moving, my heart is truly just full. Full of thankfulness for the love that everyone has poured into our little family. The way they treat Mazy as if she is their own. From youth group kids to grandpas and grandmas. I could not be more grateful for all the honorary "aunties" and "uncles" that Mazy has. Our community has embraced us. Then we think about the community we are moving into and you know what? We know without a doubt that we will feel those same feelings of love, thankfulness, and support. And to top it off, we will be by our families. I don't think that has fully sunken in yet.
But as we think about closing the chapter of our lives here in Minnesota, I couldn't leave this part of my life without saying THANK YOU.
THANK YOU, FOR LOVING MAZY AS IF SHE'S YOUR OWN!
Thank you for loving US, as if we are your own!
Whether I know you personally or not, you have blessed us beyond measure. God has shown us what unconditional love is. What it means to treat someone as if they're your own. Because of the care and love we've been shown, we hope to continue to show that same love to our youth group kids. To see them as our own. We have moved away from a youth group before and we still see them ALL as our own. As we leave this one, we still see them ALL as our own. As we meet our new youth group, we will seem them ALL as our own.
Because as Christians, that is what God calls us to do – to be one big family. We don't always do it in the most perfect way (trust me, we are the first to admit that), but what a blessing it is to be part of the body of Christ!
Who in your life has treated you as their own?
Thank them today!
ALSO, instead of posting new blog posts to my personal facebook page, I am going to only be posting them on my blogging page, so please like it if you would like to stay up to date on each new post! This will prevent people from seeing this post coming up twice on their newsfeed. Thanks! Here's the link:
https://www.facebook.com/KristinSterkDOTcom