Remember what I said about June 20 being the release date? Forget it! The wait is over because I can't wait any longer to share this with you: A HEARTBEAT OF GRACE IS HERE!!
Here is how you can get your hands on a copy:
You can order a copy right here on this blog! 

Click the "Add To Cart" button below. Scroll back down to view cart.
Type in the number of copies desired (if more than one) and hit enter.
Click the "Checkout With Paypal" button.
You may pay with PayPal, but you do NOT have to have a PayPal account to order. Simply scroll down and click the "Pay With Debit or Credit Card" option.
Enter information.
I will ship the book to you in 1-2 business days.
If you would like me to sign the book, please send me an email to kristin.sterk@gmail.com stating you would like me to do so, and I will be sure to do that. Thank you!

If you live near me, avoid paying the shipping and pick it up from me! Just send me an email: kristin.sterk@gmail.com
I am BEYOND excited to share this book with you. It's a journey into my heart, into our life, and into our faith. Writing a book about my life puts me in a vulnerable position (and for Dan too), but we feel to be authentic and real people, that sharing the good, the bad, and the ugly, is all part of that. So we hope you enjoy it as much as we enjoyed writing it!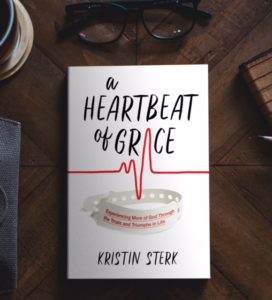 Dan was able to snap a picture of the UPS man delivering our big ole stack of books!
I admit, when I walked into the house and saw the stack, I got pretty teary-eyed. All I could do was raise my hands in thanksgiving, sing "God is so good," and thank God through prayer, for bringing this whole process to this point. A very humbling moment, to say the least!